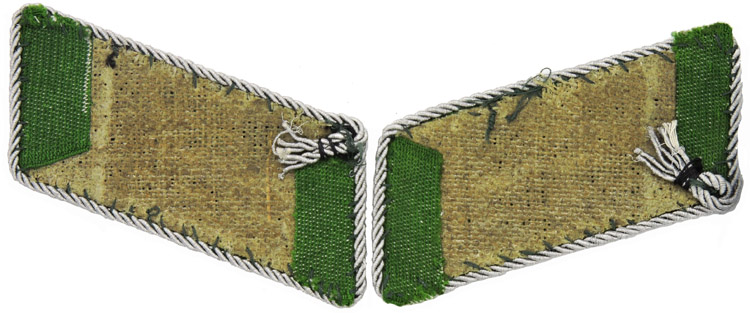 S003782 SCHUTZPOLIZEI NCO'S COLLAR TABS. (Kragenspiegel)
BACKGROUND: On June 17TH 1936, Reichsführer-SS Heinrich Himmler was appointed to the newly created position of Chef der Deutschen Polizei im Reichsministerium des Innern, (Chief of the German Police in the National Ministry of the Interior), effectively giving him full control of all police agencies within Germany. As a result of this appointment and the restructuring of all the separate German state police into a single national police force new regulations were instituted in July 1936 to bring about uniformity in dress for all police through-out the country. One of the new uniform regulations was the introduction of specific Truppenfarbe, (Branch of Service Color), to identify the assorted branches of Police service with green being allotted to personnel serving with the Schutzpolizei des Reiches, (National Protection Police). Police personnel wore collar tabs in matching pairs with the base being in the appropriate branch of service color. The collar tabs signified rank groups with the specific rank being indicated by the shoulder boards/straps. Of Note: The German Police had no enlisted ranks with the lowest rank being an Unterwachtmeister which was equivalent to the German army rank of Unteroffizier.
PHYSICAL DESCRIPTION: The machine woven collar tabs feature a police green, wool base with interwoven litzen in bright, silver/aluminum flat-wire threads. The collar tabs are trimmed in bright, silver/aluminum cord piping.
GRADE ****1/4 PRICE $59.00
To Order this item, please use one of the two e-mail addresses below to contact us. Please make sure to quote the item number in your e-mail
MILITARIA WANTED! If you have items for sale, please contact us. We specialize in selling single pieces and entire collections. Over 3 decades in the business and we do all the work for you. Get the best return for your investment.
-E-Mail Address pawmac@nbnet.nb.ca Or guild@nb.aibn.com
To return to the main page please CLICK below