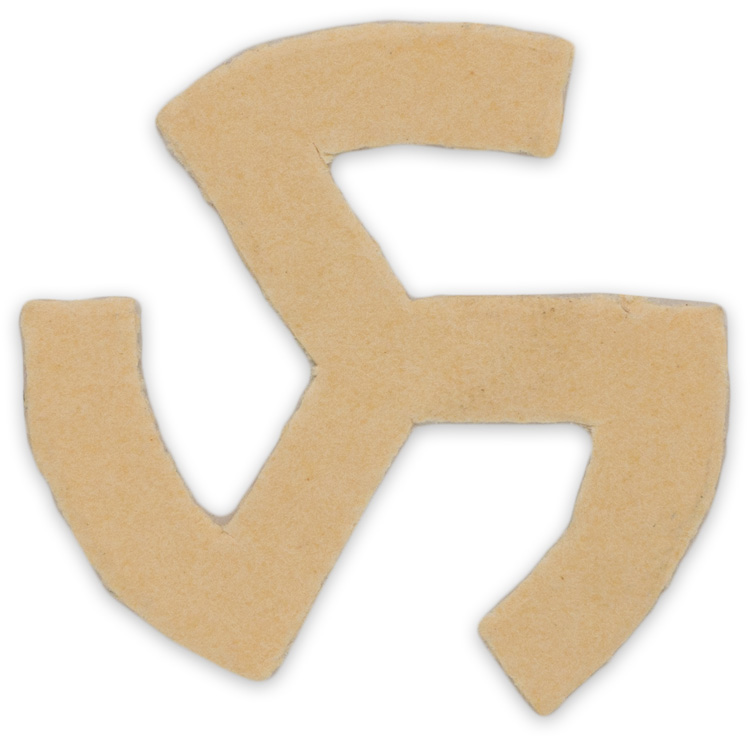 N024586 LANGEMARCK OFFICERíS COLLAR TAB CARDBOARD EMBROIDERY COLLAR TAB TEMPLATE. (Unterlagen)
BACKGROUND: The 27TH SS-Freiwilligen-Grenadier-Division "Langemarck" (flamische Nr. 1), was originally formed from Belgian Flemish volunteers in July 1941 as the SS-Freiwilligen-Legion-Flanders. In May 1943 it was redesignated SS-Sturmbrigade "Langemarck" and in October of that year it was again renamed 6. SS-Freiwilligen-Sturmbrigade "Langemarck". Finally on October 19TH 1944 it was upgrade to divisional status and received its final designation as 27TH SS-Freiwilligen-Grenadier-Division "Langemarck" (flamische Nr. 1). The 1944 upgrade to divisional status was in reality only on paper as the total strength of the division was roughly only around 3,000 personnel including the German cadre. Divisional personnel were authorized wear of a distinctive trifos, (three legged swastika), collar tab although it seems most personnel wore the standard SS runic collar tab. Of Note: The SS-Freikorps Danmark and the SS-Freiwilligen-Standarte "Nordwest" also were authorized wear of a trifos collar tab. Also Of Note: The title, "Langemarck" was of significant emotional value to the Germans referring to a WWI battle near the Belgian city of Ypers on November 10TH 1914 after which the German high command issued a report that claimed that young German recruits had successfully advanced on the French line singing the German national anthem, Deutschland ‹ber Alles and had captured 2000 French soldiers and assorted weapons and equipment. In reality this was most likely just propaganda to spur on German morale. Wether true or not the Germanís perpetuated the story and it has gone down in German military annals as a great victory and an indication of the strength of the German spirit. The propaganda value of Langemarck was not lost on the NSDAP and they utilized it as a summons to the German youth to regain Germanyís greatness.
PHYSICAL DESCRIPTION: Natural tan cardboard right hand side, Sun wheel Swastika base for use as a template for a hand embroidery. The template is in overall excellent condition. Note; This piece comes from a tailors shop in Germany where this and many other original unterlags where found after the war. Interesting piece for the advanced insignia collector.
GRADE ****1/2 PRICE $198.00
To Order this item, please use one of the two e-mail addresses below to contact us. Please make sure to quote the item number in your e-mail
MILITARIA WANTED! If you have items for sale, please contact us. We specialize in selling single pieces and entire collections. Over 3 decades in the business and we do all the work for you. Get the best return for your investment.
-E-Mail Address pawmac@nbnet.nb.ca Or guild@nb.aibn.com
To return to the main page please CLICK below